It never ceases to amaze me how resourceful and creative teachers can be.
As I write this post I am listening to the fascinating and well spoken Ryan Brown present on how he uses a Web 2.0 tool, Edmodo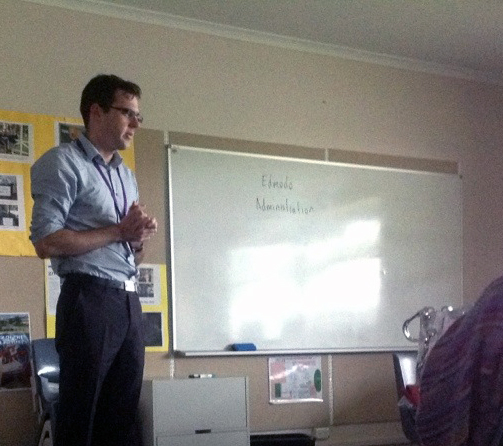 While it is not unusual for me to be listening to IT professional development, it is unusual for the presentation to be done in a semi-dark room without the assistance of any electrical technology.
CEGSA2013 is currently in blackout mode – there is no electricity in the few suburbs around us and we have lost all access to IWB's, data projectors, wireless access and desktop computers!
Has the conference been called off? Has there been a massive walkout of disgruntled delegates. The answer to this is a resounding NO!
What I am seeing is people with wireless data points or mobile Internet access sharing their facilities, presenters and delegates clustered around a single iPad which is showing a presentation originally intended for a larger whiteboard screen. Websites are being drawn on "non interactive" whiteboards to explain how to access different things at a later point in time.
Everyone is still engaged in the learning process. We are still upholding the conference theme of connecting with people and sharing the learning.
While it might be easier with the benefits of electricity and technology – teachers are still experts at making sure these essential elements of engagement and sharing occur!