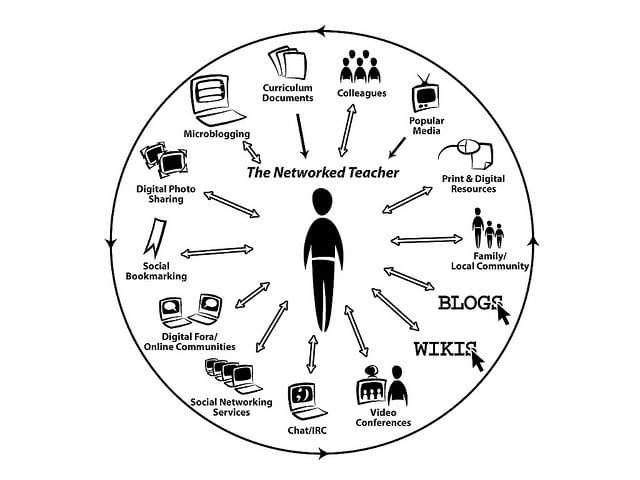 These 2 images of Alec Couros' never cease to amaze me. Quite often just the networked teacher image is shown in isolation, but I feel that the power of these images works best as a pair. For when you compare the opportunities of the second image to those of the first, who in their right mind would opt for being a just a typical teacher.
Recently I had the pleasure of being the tutor for the EDUC3625: Numeracy and ICT across the Curriculum topic at Flinders University. In one of our later workshops, we spent a session looking at the benefits of being a networked teacher, and how to go about starting your own PLN.
Over the last few years I have participated in this workshop virtually, being one of the online mentors who engages with the students as they take their first steps into the world of Twitter. This year, in my new role as tutor, I wanted to call upon my own PLN to engage in a Twitter Chat with the students about the benefits they see as being connected educators. I wanted this to be not just "text book" style information about why Twitter is a great resource for educators, but a practical example with real life advocates on the benefits of having a PLN.
A little before the workshop I, along with other workshop tutors, put the call out to my PLN and the response was fantastic. I was thrilled to have such educators that I look up to, for example Brett Salakas (@MRsalakas) from AussieEd, Simon McKenzie (@connectedtr) and Andrew Woodman from the Futuristex Project (@futuristex). My biggest professional thrill came when Kathy Schrock (@KSchrock) also joined in the conversation after I tweeted to her.
Please have a read through the Storify of our Twitter conversation from this week. I think you will agree that this was a great opportunity for these students to connect with some amazing educators and was a great way to take their first steps in building their PLN.